Systems Thinking – 10 Key Small Business Systems
Systems Thinking Audio Version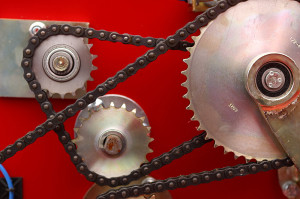 Even if you are the only employee in your small business, you need to apply systems thinking to the activities that make your business run. It's important because like a Rube Goldberg machine, every activity within your business has an impact on all the other moving parts. And yes, moving parts are happening throughout your business structure even if you are strictly a service based company.
Systems thinking and change management are integral parts of your small business. Without them, you're wasting time and making work "hard" when it doesn't have to be. These systems often require no more than writing down the procedures behind every common activity that happens within your small business. While you as the business owner know how YOU do it, when the time comes to hand off tasks to an employee, they will need direction or they'll waste time reinventing the wheel and not handle tasks the way you want them DONE.
Many small business systems begin by outsourcing tasks to a virtual employee that you may not have access to during your normal working hours. If the virtual employee has an operations manual of the systems in place, it's far more productive for them and for you. You maximize money and time spent getting things done and the hired help doesn't get frustrated not knowing what to do when they can't reach you.
A systems thinking approach is important for all aspects of your business. Systems expert Kim Beckers appeared on my radio show, ACT LOCAL Marketing for Small Business, and shared what she sees as the 10 Key Small Business Systems every company, no matter the size, needs in order to grow quickly and comfortably.
The 10 Key Small Business Systems Thinking Requirements
Backup Systems
Money Systems
Metrics Systems
Marketing and Lead Generation Systems
Relationship Systems
Sales Systems
Delivery Systems
Scheduling Systems
Communication Systems
Business Foundation Systems
Don't let the names fool you. Many of these key systems are probably in place or partially in place already. Listen to the podcast from September 17th to hear Kim's detailed descriptions of these business systems. As a business systems expert, she helps small business owners get a handle on these structures, implements them and gets your business operation set so that when the opportunity for growth occurs, you're ready. Though it isn't my intention to sound like a commercial, I'll tell you, I think Kim's great but you can visit her website and decide for yourself.
 Systems Thinking – Every System has Three Parts
When you are trying to figure out how to approach systems thinking within your small business, remember that every system has three parts.
Imagine that piece of IKEA furniture you brought home. It had an instruction sheet that told you how to put the furniture together, what tools you would need to get the job done and of course YOU to put it together.
This is what I want you to do to start a systems thinking approach:
Look at your business, pick one task that you routinely do but in your heart of hearts know is not an effective use of your time. For example, let's choose follow-up after a networking event. Consider the procedure you go through (or should be going through) after each such event. There are probably business cards that need to be put in a database and categorized by type of connection (vendor, prospect, referral source). There should be a different email follow-up sent to each person in each category. Maybe some of them belong on your weekly newsletter list while others you want to have coffee with for referral potential. And I'm sure there's more to the sequence from there.
Whatever the right sequence is for you, these tasks are part of the system of Marketing and Lead Generation. Create the steps that make up your SOP (standard operating procedure) and document it. You are now one step closer to having an operations procedure in place that anyone can be hired to do for you so your time is spent doing the things within your business that you love and are really good at. Ultimately, those are really the ONLY things in your business that you SHOULD be doing.
A systems thinking approach to every aspect of your small business will make you ready when opportunity knocks. Isn't that the definition of luck?
systems thinking