Visual Learners Rejoice!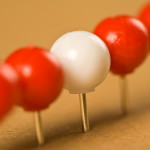 Or maybe we should say visual learners have a choice. Either way, I have long been intrigued by the concept that there are different types of learners. I'm not sure that teachers knew, or necessarily cared, about that when I was in school a million years ago. It was more of a one size fits all approach to learning then.
But having seen all of my own children navigate through grammar school at this point, it's obvious that the studies are telling us something. The implications of the fact that there are multiple types of intelligence and various styles of learning need to be taken into account when we communicate.
Imagine the impact this could have on your business marketing. If I told you that it was a fact, approximately 65% of the population are visual learners, what would that mean to you?