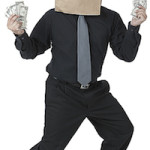 Don't turn a blind eye to business automation systems. It's the equivalent of running your business with a paper bag over your head.
There is a great article on Yahoo! Finance from May of 2013 by John Aberle titled Simple Systems for Organizing Your Small Business that I encourage you to go read. What I want to share with you is the opening section of that article which the author subtitled Calculating the Impact of a Minor Problem. This kinda drives the whole idea home.
Let's imagine there is a small problem in your business that everyone has been putting up with. It wastes approximately 20 minutes per day for each employee that has to deal with this problem.