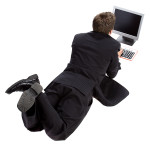 Blogging is a key strategy for marketing; even at the local business level so here are some friendly tips on how to start a blog that will help small businesses get seen and not take more time than you can dedicate to the task.
A blog is your creation, emphasis on the YOU. Only around 1% of bloggers actually make a living at it. That's not the point of blogging for local businesses. As a marketing tool, local business owners should start a blog to feed the Google content monster so your website remains fresh. You also get the chance to showcase your business, expertise and leadership in your industry. Not to mention all the nifty SEO benefits but perhaps that's another blog post.
Here are my 10 tips to get you blogging in 2014 that are sure to help grow your business.
1. Set the expectation: This is your blog and your marketing strategy which means you get to set the expectation of how often you will create content. If you are really looking at how to start a blog, it begins with setting a schedule and sticking to it. Once a week is great. But if that seems like too much, begin with once a month. Whatever schedule you decide on – Stick To It!
2. Keep a topic list: New bloggers often have several ideas but once those are exhausted, they have a difficult time coming up with new things to write about. This is where a running topic list comes into play. Every time you have an interesting discussion with a colleague or client, jot the topic down on your list. This way, when you need new inspiration because your schedule says it's time to write another post, you won't be left staring at a blank screen.
3. Clip references into Evernote: If you've never heard of Evernote, you need to check it out. Evernote is an app that allows you to clip web pages, images or links into folders for future reference. Read an interesting article online? Clip it, tag it and put it in a folder. Six months from now when you want to quote it in a new blog post, you'll know exactly where to find it. Bonus: You can also keep your blog topic list in Evernote.
4. Learn basic SEO: I'm a big believer in the 80 20 rule. There are a handful of things you can do to any blog post to help it get found faster by the search engines without going SEO crazy. (SEO=search engine optimization). Every post should target a particular keyword phrase. That phrase (for example – in this blog post you're reading, the keyword phrase targeted is how to start a blog) should be the title of your post, in the first sentence of your post, in the alt tag of the image uploaded to your post, again as an H2 tag if possible and preferably in the last sentence.
5. Include an image: Using your keyword phrase with an image was mentioned in the basic SEO above because an image is very valuable to your post. Images get indexed by Google just like blog posts do. Having an image makes your post more interesting visually and may even get your point across faster. A picture paints 1000 words, right? So use one and alt tag it! You'll get double the Google exposure in search.